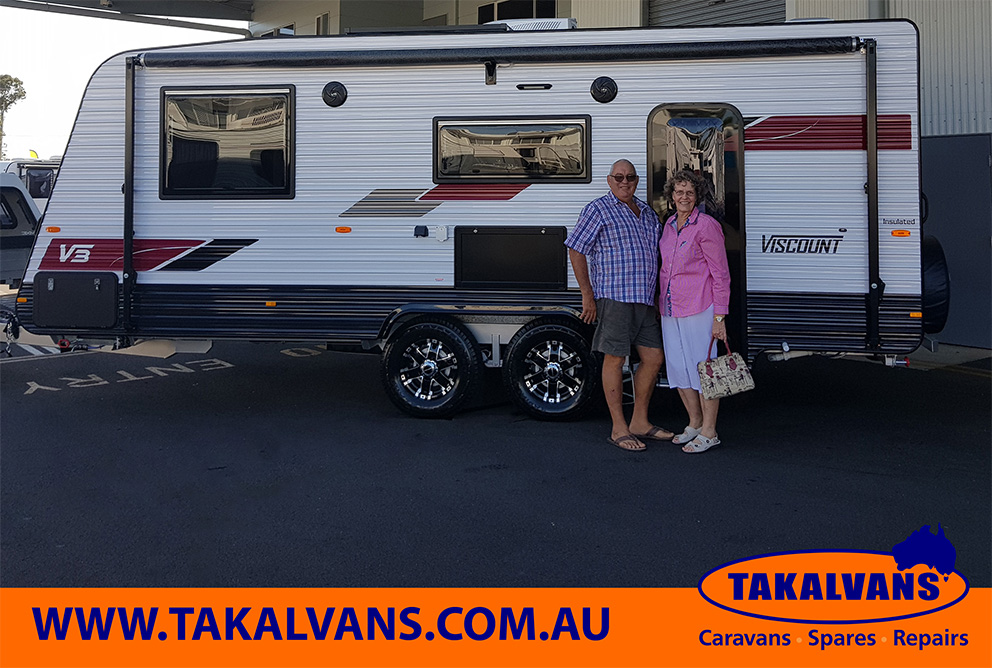 Customers Graham and Karen are excited to hit the road with their brand new Viscount V3 from Takalvans.
We have just purchased a new Viscount V3 caravan from Justin and the Takalvan crew.
Graham says: bloody excellent caravan and service!
Karen says: Super keen to go for our first trip in this beautiful van.
We both say: We were treated like family and nothing was too much trouble. 10 out of 10!
- Graham & Karen
---
Awesome van, awesome dealership. Couldn't be happier with the van and the support from Takalvans has been excellent. Maybe we will drop by on our second lap! Thanks again Dale and Takalvans.
- Paula Thompson via Facebook
---
Thanks to Bruce and Justin at Takalvans Caravans in Bundaberg Qld for the most professional and pleasant way they handled our booking and the installation and adjustment of charging settings of two new batteries in our caravan. I was also impressed with the clean and orderly presentation of the Takalvans yard. I recommend their professionalism.
- Bill Swan via Facebook
---
Just thought I'd drop you all a quick line to say a big thanks to for sorting out our van as we've been travelling. You know whenever people chat to us about the van we always say a van's only as good as the service / dealer backup. There's so many people with horror stories. You're all a credit to the industry - if only there were more service like yours around!  
- John Thompson & Family 
---
We would recommend Takalvans to everyone. We have been impressed with your service and appreciate the prompt service when attending to warranty issues. Nothing has been a problem.
- Gary & Judy Duthie from Alice Springs
---
Recently purchased a Coromal POP-Top off Takalvans and there service was outstanding and Justin was a legend in the way he approached and dealt with us. I highly recommend The Takalvans team with your first or next purchase.
- Brett Hastie via Facebook
---
Sales team were excellent. No pushy staff, great trade in price. Delivery hand over was thorough, not hurried, well explained. Follow up calls to check on satisfaction great. Would highly recommend this dealer.
- Dennis Johnson
---
"Takalvans are amazing....they have given us support and excellent advice even though they know we bought our caravan while in Brisbane...I would drive across country to buy from them next time...they're genuine good guys"
- Chris Mallett via Facebook
---
"We are both so happy with our van and the service we received from your business. We will recommend you to anyone who asks. You made the whole experience so easy particularly "first timers!" We are now looking forward to our first holiday. Again many thanks."
- Brad & Alison Smith 
---
"Thank you so much for your cooperation and help with the purchase of our new Coromal Lifestyle Van. Thanks also to Dale, and the rest of the Takalvans Team"
- Len & Jan Ivory
---
"Just a short note to let you know how impressed I was with the service I received from your staff. You looked after our Paramount repair thoroughly and did over and above what was originally required. I will have no hesitation in recommending Takalvans whenever I can."
- Gerry Gagel
---
"Natalie & Dale & Staff. Thank you so much for all your good service on the delivery of our new van.  We love it!!"
- Dianne & Garry Heit
---
"We would like to thank Takalvan caravans for the exceptional service we received when we traded and purchased our Supreme caravan, especially Justin from sales and Dillon from the service; you can be applauded for the friendly service above and beyond what we expected which is exceptional these days. Thanks again!"
- Dave & Jan
---
"We are so impressed with the service from Takalvans. They have given us excellent advice which once you get back on the road realise just how correct it is. Dale answered our million questions and their prices were really reasonable. Eg. Their litre bottle of blue toilet chemical was about $15 - where we usually pay around $28-$38. Thanks guys for caring about your customers and taking the time to help."
- Melissa Francis via Facebook
---
"We are extremely impressed with Takalvans, Dale & all team members with their show room service, sales yard service & work shop services. We have bought two vans off them so far. Upgrade each time. Will keep buying their Cormal vans."
- Tony Lunn via Facebook
---
"Takalvans sales and service is excellent. Staff are excellent, cannot do enough for you. Service and advice excellent."
- Sandy Geaney via Facebook
---
"Such friendly staff and excellent service. Thank you Dale and Ashley."
- Tess Bloomer via Facebook
---
"Great service, put solar on our motorhome and a fresh water tank. Friendly staff."
- Joe Cooper via Facebook
---
"Great Service, bought a near new van from these guys and so happy with the van and service, outstanding business to deal with, would highly recommend Takalvans to anyone who is in the market for a new or used van."
- Greg Yarham via Facebook