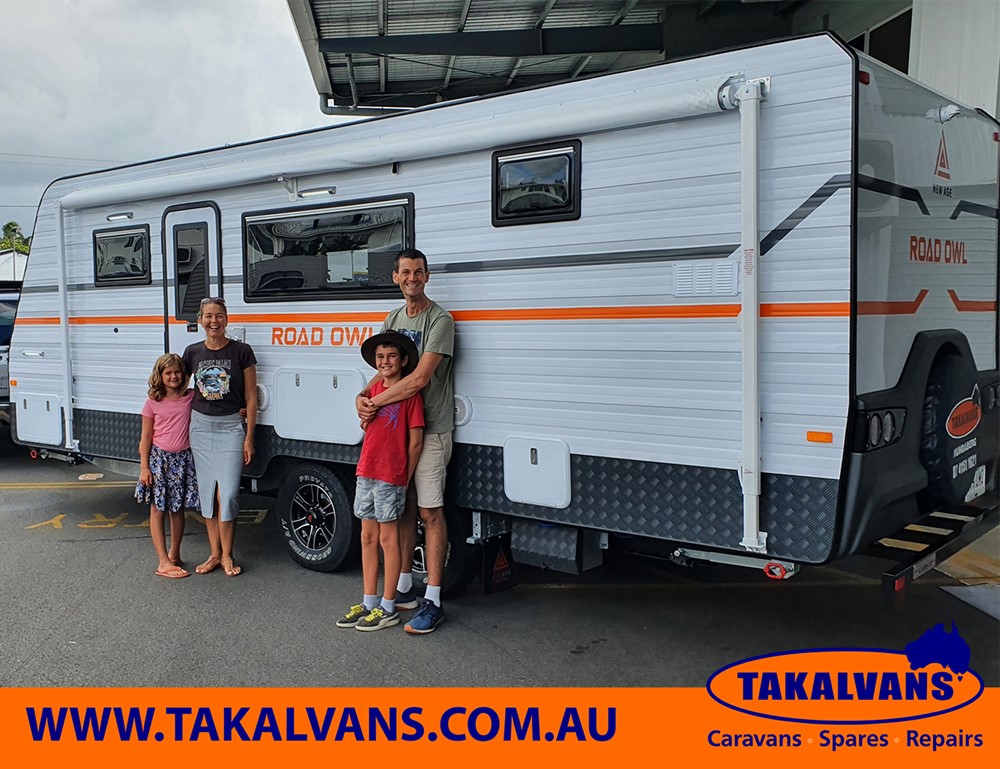 Ready to explore Australia with no set timeline nor itinerary. Congratulations to the Mudies - Ben, Rebecca & kids Natalia & Jacob on their New Age MY22 Road Owl Family Van.
---
We were so thrilled with the customer service from the team at Takalvans throughout our journey from initial order to delivery. Justin in sales was an excellent communicator with us through the whole process, even with the unexpected delays, etc, that COVID brought. He was always available to answer questions and find solutions for us. The hand over was thorough with a clear run through and each feature explained. They even set up our car's brakes and mirrors, getting us ready to roll. We can't wait to make use of new New Age caravan. Thank you to all at Takalvans. We are so grateful.
- Mudies Uncaged via Google

---
We wanted more power in order to stay off-grid for longer in my late model 21' Jayco Silverline Outback caravan. After searching throughout Brisbane, the Gold Coast and Sunshine Coast I called Takalvans in Bundaberg where I spoke to Dale. I explained that I wanted to stay with the BMPRO battery management system as it was already installed in the Silverline. It was immediately obvious that he had a deep understanding of this system and within a few days of emails being swapped back and forth, we had a system worked out and priced. After paying the deposit I was booked in and drove the 5 hours from Brisbane up to Bundaberg. The lads installed 5 x 200 Watt solar panels, 3 x 200 Ah Lithium Batteries a 2,000 Watt inverter and all the latest BMPRO power management systems reporting to the already installed JHub tablet. They also installed the BMPRO SmartSense range of Monitors for Tyre Pressures, Fridge and Freezer temperatures and Gas Bottle Levels, all of which also reported back to the JHub tablet or App downloaded from Playstore. They also installed a brand new Dometic Harrier air conditioner and were good enough to do some other minor repairs while the van was there. The installed system works perfectly and we now have almost unlimited off-grid power to run our appliances and the A/C, all night if needed. Thank you to Dale and the team at Takalvans in Bundaberg.
- Neil Barrel via Google
---
Couldn't find a better team, from our initial enquiry with Justin, who won us over, he kept us up to date with the build progress, and then on pick up day of our sexy new van. The whole team here went to the ends of the earth to help us get it set up. Thank you Takalvans Bundaberg.
- Chell Boag via Facebook
---
So, here we are at the end of one road and the start of the next in the form of a major investment. We began in 2014 with a 14 foot, 1973, Millard Caravan that we bought to 'see if we might like to travel via caravan'… We clearly did and contacted 'Takalvans' on our return to Bundaberg to see if we could trade up to another, larger van… At the time they were the local agent for Coromal vans and we were surprised with the immediate, professional and friendly reception we got when we talked to them. Needless to say we traded up. And here we are 6 Caravans later with a brand new 'New Age Big Red Slider'. We could not have imagined that in a brief 7 years we could have achieved the climb from 14 Foot second hand to a New Age latest model. But that is a testament to the help we got from the team at 'Takalvans'. Nothing is too difficult. Nothing is too hard. Nothing is out of reach. Talk to this team of professionals and you will find a level of 'Yes' that is rare in these modern times. My wife and I are proud to be a member of the ever growing 'Takalvans New Age' client team and recommend them to anyone who is looking to buy a first caravan or looking to trade up to a larger or better equipped van. Thank you to Dale, Natalie and the rest of the 'Takalvans New Age' team for making our dreams come true…
- Phil Baker via Email
---
Highly recommend Takalvans, very professional from start to finish. We collected our van today and the professionalism from both salesperson and the demonstration on the Caravan absolutely amazing. Thank you to all involved
- Missy Price via Facebook
---
We recently had some storm damage to our caravan repaired .. we would like to thank the amazing and professional workmanship that was done to our van. It looks so good, like new! As it was just before Christmas we appreciated the quick time frame that the work was done in. Thank you all again for the wonderful service. 🙏
- David Allman via Google

---
Just picked up our New Age Big Red and couldn't be happier with the professional and honest customer service we received from Justin Gorrie what a absolute legend in the Takalvans team! Thanks for the seamless process of trading our old van on our new van! Would have no hesitation on recommending Takalvans! Thank you.
- Norm and Angie Hunter via Google
---
The guys went above and beyond to help me with repairing my awning from weather damage during the Christmas period and helped get me back on the road. Could not recommend these guys enough.
- Mick A via Google
---
Over the last 10 years we have used Takalvans for our Spare Parts and repairs. They have also been able to supply us with our 2 caravans over this time with perfect results. Thanks again Dale and Natalie for everything.
- Hugh & Bernadette Bauer via Google
---
Great service for our caravan. On time and on budget. Takalvans never disappoint. Highly recommend. 15/11/2021 Robyn and I had our van in for adjustment of annex rafters and accessories fitted. Another USB/12v socket. And Sirocco fan. They really are quiet and effective. Work as quoted and in reasonable time. We have to keep away! Spend money!! Cheers guys.
- Chris & Robyn Sinclair via Google
---
Just want to say a big thank you to Takalvans and all their staff. From the minute we called to say we were coming from 4 hours away and they held the van, to the continued excellent and personal service . With a big thumbs up to the walk through to take possession of our new van and helping us setting it all up. If you ever need a van or something for a van we would highly recommend Takalvans and thank you Justin and all the team .
- Tanya Insch via Google
---
I'm shocked, I came to Takalvans a few weeks ago with a vague picture in mind and some shotty home jobs in place. The amazing crew took both me and my little van under their wing. They listened to my vague ideas and created a masterpiece. These people truly went above and beyond. The team was extremely meticulous about creating something that was in my vision and used their expert knowledge and practicalities of life on the road to include an array of features that I hadn't even thought about. When they contacted me to say that my van was ready to pick up, I had no clue what I was in for. When Dale showed me my van I was quite literally speechless. I had no idea a transformation like that was possible. As he went on about even more features of my van I was shell shocked. I had no idea that that level of kindness and forethought existed! Dale and the team at Takalvans have made my dreams come true and more. I couldn't be more thankful and recommend them any higher.
- Indigo Hibbert via Google & Facebook
---
Absolutely fabulous experience - all staff were very courteous and kept us up to date with our caravan repairs. Prices quite good compared to other places visited - Thanks Dale and team.
- Peter Slack via Google
---
Just looking at this time but still received good service. We have purchased a caravan from these guys and I would highly recommend them. The service we received was excellent from everyone who works there. The area is very clean and the people extremely friendly.
Very impressed with Takalvans Bundaberg! From the initial enquiry through to handover of our van purchase, nothing but professional, friendly, informative service! Special thanks to Terry and Justin, much appreciated.😊
- Pat Muddle via Google
---
"Just had the van back for it's first service and a satellite tv system installed. Amazing customer service as always. And once again they exceeded my expectations."
- Dale Mann via Google
---
Make Takalvans your first stop. When everyone else was saying no, these guys were saying yes. The team went above and beyond with my camper and their communication was top notch. Customer service is so important and Takalvans have nailed it. Give Takalvans your business and don't bother with anyone else. They'll look after you.
- Cooper Milovski via Google & Facebook
---
Great family business with old fashioned values. Good value for money new and used caravans and very knowledgeable with all aspects of the sale right up to handover. Would recommend you give these guys a chance before signing with others as you get what you pay for.
- Wil & Raelene Haberer via Facebook
---
Have just had our van in and at Takalvans to have our battery system changed over to a Lithium system and Dale and his team have bent over backwards to help and answer any of our questions. I would highly recommend them to anyone looking for a new or second hand van or just to get a service or upgrade anything on their caravan.
---
Just purchased our first caravan, a New Age Road Owl. Can't thank the whole team at Takalvans enough. Justin in sales for the advice during the decision process, the updates while we were waiting for delivery and the thorough handover by Terry on the day of pickup. Just completed our first 8 night trip encountering sunshine and pouring rain. We have had no problems and no leaks. Van towed smoothly thanks to the set up prior to pickup. Highly recommend Takalvans for purchasing a caravan and for their great range of accessories.
---
Describe this dealership in one word. Impeccable. Nothing but the best of service from the moment we walked in to have a look, Till we left with the new Manta Ray. Totally amazing customer service and complete professionalism the whole way. Nothing is too much trouble for these guys and I can't recommend them enough. Thanks guys. It is a fantastic van.
- Dale & Kaylene Mann via Google
---
After a less than satisfactory repair job done by a caravan workshop in Maryborough we brought our van and tow vehicle to Takalvans. What a different experience. Justin and his team were brilliant and the final bill a lot less than expected. Thank you so much!
- Alison Lord via Google
---
Picked up our new van today the service we had was absolutely excellent. Dale went through everything thoroughly with us and the van itself was spotless. We have dealt with Takalvans before and there after sales service is always first rate we wouldn't go anywhere else.
- Sue & Denis Williams via Google
---
We entered the yard and were greeted by Dale. He impressed us straight away, as he knew his stuff. Dale is a guy who tells you how it is, no pressure. Did we buy the van we were looking at? We sure did. When we picked it up, Terry did the handover and he has a fantastic knowledge of everything caravanning. We loved our experience, thank you guys.
- Vance Nevins via Google
---
Once again I would like to thank you and all of your Takalvans team for dealing with my camper so promptly and addressing all of my requests. I was astounded at your turn-around time for the work conducted and also for your extra level of service. I will certainly be using your professional services again should the need arise. Happy camping!
- Mary Giles via Email
---
We just had a wonderful weekend away in our new van. A huge thank you to Justin he gave us the best service . He has helped us twice now with our vans. Thank you Natalie for your help in the shop and thank you terry for showing us around our new van. Wonderful service.
- Glenda Baglin via Facebook
---
Today we picked up our dream caravan from Takalvans. From start to finish they could not have been more helpful or knowledgeable. We've been looking for three years, knew what we wanted but just couldn't find it and due to COVID19 the search was becoming frustrating as everything was selling so quickly. We called in late one Saturday after being referred by the local Jayco dealer who didn't have anything like we wanted and there it was traded in two days earlier. Justin didn't hurry us and we kept him quite a bit after closing but he was able to answer all our questions. We left feeling 99% certain and then decided over the weekend. First thing Monday we paid the deposit then worked out all the extras we needed and Takalvans installed them on the van and our Touareg over the next three weeks. Their installations were faultless. From Justin and the other sales staff, the spare parts staff, the workshop staff, Natalie who did the final transaction and the handover staff, they were ALL FANTASTIC. We had many questions during handover and we left feeling totally confident in our purchase ... and many, many times were told "if something isn't feeling right, or you have any questions just ring or call in ... we'll sort it out for you" and I have no doubt that they will. Thanks Takalvans from the newest grey nomads in Australia.
- David & Peter via Google
---
We have just purchased our new Road Owl from Takalvans Bundaberg. We were very impressed with the service from the first phone call. Justin Gorrie was very approachable and honest, which was very much appreciated. We were also very impressed with all of the staff and it was a delight doing business with this family orientated company. We would highly recommend them to anyone looking for a caravan. Cheers.
- Anne Smith via Facebook
---
Thank you all so much for your amazing customer service from the time we went to look and spoke to Justin, to the finance guy, Terry who did a fabulous job walking us through everything in our van. We couldn't be happier with all your friendly faces in the shop and photo man that came out to chat. Amazing company to go through and very helpful. Thanks heaps for all you did for us to get our beautiful New Age Bilby on the road. 
- Cheers Kev & Stacey via Facebook
---
Friendly staff and professional service. We were very happy with our buying experience from the first phone call to the handover. Staff were not pushy at all, very relaxed, country hospitality. We look forward to driving the 3.5 hours for future services as we are happy to support this lovely family run business.
- Jason & Michelle Brew via Google
---
May I just say how amazing all staff at Takalvans in Bundaberg are. Never have I purchased something and felt so relaxed with a team of people. When they say welcome to the Takalvans family, they truly do mean family. It's companies like this that give your company a great name and want people like myself to recommend New Age and Takalvans.

- Nev & Mel Ohl
---
A big thank you to the team at Takalvans Bundaberg for doing the first service on our New Age - Oz Classic.
They also fitted 2 x new boxes under the van so I don't have to rummage through the front box to find the chocks etc.
Great professional team to work with and dam nice people.
- Ken and Jenny Wilson - Truck Friendly Road Safety Program via Facebook
---
Since moving to Bundaberg we have used Takalvans many times for servicing, spare parts and an Insurance Claim on our awning. The team at Takalvans are all very helpful and can't do enough for you. Their workshop is spotless and attention to detail spot on. I would have no hesitation in recommending them to anyone in the caravan group. Well done! Top class business.
- Len & Robyn McIntyre Option RV via
Facebook
---
Justin and Dale looked after us during our purchase and pick up of used van. Friendly helpful service, process was made very smoothly with their knowledge and assistance. Would highly recommend visiting Takalvans if you're looking for a caravan.
- Annette and Bill happy campers via Google
---
Having travelled all around Oz I believe Takalvans is one of the best service centres in Australia. We have had our caravan serviced there for years now and their great customer service, workmanship and attention to detail is unbeatable. My family has also bought a caravan through them and found the whole experience very pleasant. A truly great family run business that I would recommend to everyone.
Jason McCullogh via Facebook
---
Very efficient and professional service for my hail damaged caravan. Looks like new again. Would highly recommend. Well worth the 4 hr drive to get it there.
Mick Bolland via Google
---
Just had our New Age Manta Ray serviced here from out of town, they were fantastic to deal with on the phone with all of my questions and concerns as family dropped it down and picked it up for us. Thank you.
- Amy Barnes via Facebook
---
After three years of gallivanting around Australia in a 2017 New Age 5.5 mtr Manta Ray, we decided to upgrade to enjoy more of this great land. In October 2019 Takalvans began their retail relationship with New Age and we called in too see what was available. We were met (as one would expect) with smiles, but also they listened without the "sales talk". We sat and discussed the possibilities of a specific built upgrade with Natalie. It was a Saturday (the end of the promotion) and Neta's birthday the next day. She commented on the flowers, and low and behold Dale (the owner), presented her with a bunch. We traded in and in the next few months we were given updates on the progress of the manufacture of our van. On collection day I was impressed with the effort put in to ensure the van was tow-able by checking brakes and of course a two hour run down on van operations. Cant wait to test it locally and then head West. Thank you Takalvans. As Arnie said, "we'll be back".
- Neta Whitton via Google
---
Many thanks to Justin Gorrie at Takalvans Bundaberg for arranging the build of our new 2019 Crusader Musketeer Athos.
It was a pleasure to deal with Justin from the Sales Department throughout the entire process of our build from start to finish.
Justin always stayed in touch with updates and nothing was ever a problem to follow up on and did his upmost to attend to any enquiries we had. Van was presented in a clean condition with a final once over by the lady that gives it the final touch prior to handover.
Also thanks to Dale for running us through the handover in a professional way and making sure all was good prior to leaving.
I would highly recommend Takalvans to any future customers. 
- Ross, Sandy & Kiya Harley via Facebook
---
The service you receive here is fantastic . We had our caravan serviced and a leak fixed . This team are extremely professional and nothing seems to be a problem . They went above and beyond to help us . Cannot recommend them highly enough .
- Robert Watson via Facebook
---
Had some issues with my Jayco Starcraft when away in Queensland rang Takalvans up only to happy to help got my problems sorted out and they carried out a service at my request. Great service, friendly staff, Jayco were too busy so they missed out as we are from Sydney it was great to get it done so quickly. Would come back here just for my service.
- Ron Smith via Google
---
Had our van serviced and a number of minor issues sorted on Monday. Can't speak highly enough of Dale Hodge and team in the workshop. Wouldn't take our van anywhere else.
- Gloria Binney via Facebook
---
Just a short note to let you know we arrived home safely last Friday with caravan intact (nil incidents or damage) and I have since returned to work. Marie and I also wanted to convey our heartfelt thanks for yours and Takalvans staff members assistance to us in the delivery of our van. We are still pinching ourselves at the outcome of our purchase and are extremely happy and satisfied with our experience. We have since seen your post on your Facebook site and could not keep the smiles from our faces on sighting it. We were quite anxious at the start of our purchase, but you made it a smooth experience from start to finish and for that we will be always in your debt. 
- Robert & Marie Hucker
---
We have just purchased a new Viscount V3 caravan from Justin and the Takalvans crew.
Graham says: bloody excellent caravan and service!
Karen says: Super keen to go for our first trip in this beautiful van.
We both say: We were treated like family and nothing was too much trouble. 10 out of 10!
- Graham & Karen
---
Awesome van, awesome dealership. Couldn't be happier with the van and the support from Takalvans has been excellent. Maybe we will drop by on our second lap! Thanks again Dale and Takalvans.
- Paula Thompson via Facebook
---
We have just purchased our first caravan and I would like to personally thank Dale and Justin and all the other staff for their excellent customer service throughout this process. We live in Mission Beach and saw the van online, from the moment of our first enquiry right through to the finalisation of the purchase and the pick up of the van we received exceptional service. We had many questions, lots of emails and phone calls and a cousin inspected the van on our behalf and a friend drove to pick it up for us. Each one of these people also received great service from the staff. It's refreshing to see! Thank you - our time has come to hit the road!
- Marcia Christine Baker via Facebook
---
Just thought I'd drop you all a quick line to say a big thanks to for sorting out our van as we've been travelling. You know whenever people chat to us about the van we always say a van's only as good as the service / dealer backup. There's so many people with horror stories. You're all a credit to the industry - if only there were more service like yours around!  
- John Thompson & Family 
---
We would recommend Takalvans to everyone. We have been impressed with your service and appreciate the prompt service when attending to warranty issues. Nothing has been a problem.
- Gary & Judy Duthie from Alice Springs
---
Recently purchased a Coromal Pop-Top off Takalvans and there service was outstanding and Justin was a legend in the way he approached and dealt with us. I highly recommend The Takalvans team with your first or next purchase.
- Brett Hastie via Facebook
---
Sales team were excellent. No pushy staff, great trade in price. Delivery hand over was thorough, not hurried, well explained. Follow up calls to check on satisfaction great. Would highly recommend this dealer.
- Dennis Johnson
---
"Takalvans are amazing....they have given us support and excellent advice even though they know we bought our caravan while in Brisbane...I would drive across country to buy from them next time...they're genuine good guys"
- Chris Mallett via Facebook
---
"We are both so happy with our van and the service we received from your business. We will recommend you to anyone who asks. You made the whole experience so easy particularly "first timers!" We are now looking forward to our first holiday. Again many thanks."
- Brad & Alison Smith 
---
"Just a short note to let you know how impressed I was with the service I received from your staff. You looked after our Paramount repair thoroughly and did over and above what was originally required. I will have no hesitation in recommending Takalvans whenever I can."
- Gerry Gagel
---
"We would like to thank Takalvans caravans for the exceptional service we received when we traded and purchased our Supreme caravan, especially Justin from sales and Dillon from the service; you can be applauded for the friendly service above and beyond what we expected which is exceptional these days. Thanks again!"
- Dave & Jan
---
"We are so impressed with the service from Takalvans. They have given us excellent advice which once you get back on the road realise just how correct it is. Dale answered our million questions and their prices were really reasonable. Eg. Their litre bottle of blue toilet chemical was about $15 - where we usually pay around $28-$38. Thanks guys for caring about your customers and taking the time to help."
- Melissa Francis via Facebook
---
"Great Service, bought a near new van from these guys and so happy with the van and service, outstanding business to deal with, would highly recommend Takalvans to anyone who is in the market for a new or used van."
- Greg Yarham via Facebook
---