7 caravan insider tips to make your caravan your home-away-from-home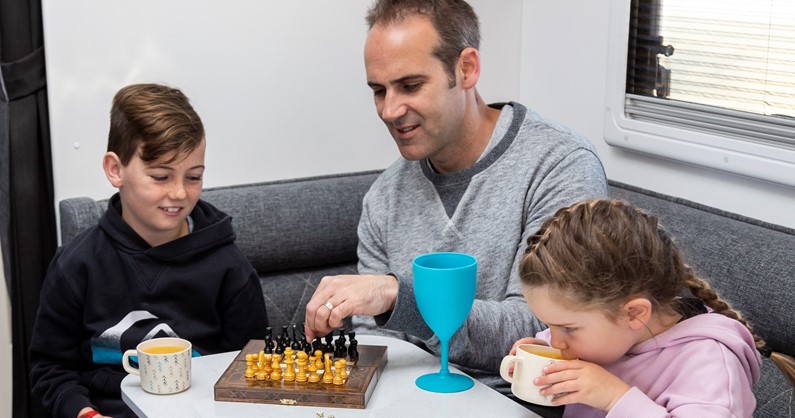 When you're caravanning, the world is your oyster! There are so many destinations to explore and hidden pearls to discover. But, as with anything in life, it helps to have a few insider tips. So, we've put together our top seven caravanning tips to help make your home-away-from-home as comfortable as possible. Enjoy! (We'd love to hear any of your own tips in the comments below!)
"Home is where the heart is, and for caravan owners, their caravans are their homes away from home" 
Insider tips covered: 
---
1. How to make your caravan feel like home
Some interesting ideas for you to work with:
Enhance your sleeping areas eg; Get a fitted sheet to make your bed feel more like home or bring your favourite blanket/rug and some colourful cushions
Bring along some of your favourite photos or paintings to personalize the space
Invest in some small rugs or carpet squares for added comfort and insulation. It's nice underfoot for when you first get out of bed 
Make sure you have plenty of storage - baskets, crates, lidded storage containers and shelves can be really useful
Invest in some non-stick matting for your shelves to stop things sliding around
Bring along some familiar objects from home, like a favourite mug or other precious items
2. How to set up your caravan for maximum comfort
See the latest caravan fit-outs by looking at new caravans for sale to help give you ideas, as many things can be retrofitted. New vans of course are full of the latest innovations in caravanning and many of these ideas are aimed at making your caravan so much more comfortable. Looking back a few decades you would never have seen the level of comfort and innovation in vans that you do in today's new caravans. Another amazing thing about caravanning today is the opportunity to free camp and also go off-road because of innovations that never existed some time ago. Caravans are relatively self-sufficient in many ways today which opens up a whole new world of possibilities for camping throughout our wonderful land. One amazing innovation that many vans have nowadays is solar panels and lithium batteries allowing you to be self-sufficient with lighting and power needs as most of the lighting is 12 or 24 volt. Just great!
3. How to make cooking and eating in your caravan a breeze
It's worthwhile remembering that modern new caravans for sale nowadays have many features that make cooking so much easier. 
Some common features in modern caravans that make cooking a breeze: 
decent sized refrigerators 
microwaves
exhaust vents 
gas/electric stoves and ovens 
outside gas connections 
240-volt plugs for barbeques or cooking plates 
tv connections for outside  
fold down tables 
Innovative features that allow you to have an outdoor kitchen under your awning adds another interesting aspect to caravanning. There is nothing better than sitting outside your van in the open air enjoying a meal and glass of wine while watching the sunset or the local wildlife and birds foraging for their dinner. 
Leverage your campsite cooking options: 
Another option if you find some discomfort from unwanted cooking smells invading your living space is to make use of the caravan park's camp kitchen. Many of these are very well fitted out and have all the facilities that a modern kitchen has and best of all it's there for your use. BBQs, refrigerators, microwaves, tables and chairs, tv's in addition to the opportunity to meet and share with other like-minded fellow travellers. It's great to hear where they are from and where they've been. You can usually pick up some very useful information about destinations, fuel prices and many other good tips  
4. How to keep your caravan clean and organised, like your home pad
As a result of the need to use space to its maximum advantage in a smaller area like a van, it is important for you to be discerning about what you take with you in your travels. Overloading your van has consequences that arise that can be very unsatisfactory and unsafe for you when on the road. To facilitate this it is a good idea to: 
Take only what you will definitely use clothing-wise,
Minimise your weightier items such as tools and equipment,
Load your van limiting how much you carry behind the wheelbase,
Don't carry more cooking equipment than you need and have most of the weight down low in the van and either over or in front of the van wheels,
Use your storage areas wisely so that you don't have clutter about, which can make a van seem smaller than it is, 
If you use something don't leave it out but stow it &
Because of the small floor space a retractable broom, dustpan and brush are usually enough for cleaning the floors. 
The motto for clever and organised caravanning is "think minimalist" 
5. Space-saving ideas to ensure you have all the essential home comforts you need 
Space-saving and clever storage is a lesson that every caravan owner learns early in their travels. Lidded storage bins can be purchased for not a great outlay and they are great for storing non-perishable foodstuffs under the bed or in other appropriate stowage spaces. They also suit the storage of clothing and other items that are not immediately needed. The boot of the van or the back of the tow vehicle is a good place for all those things like hoses, tyre compressor, tools, tarps, matting, shades, pegs, ropes, outside chairs and the other many things needed for setting up camp and maintaining the rig. But again think minimalist as too much weight is your enemy.  
6. How to entertain yourself - books, TV etc 
You have a unique opportunity to really relax and just do what you've always felt guilty about doing before but now to the max. "What is it?" I hear you say. Well, it might be some of the following popular ideas and so much more:
Crosswords, codewords, sudoku or patience 
Read a good novel 
Watching that DVD that you've been wanting to see  
Watching the bird life and other wildlife in the area
Take walks in the bush (remember your hiking boots and hiking sticks and water bottle)
Photography
Chucking a fishing line in (remember your rods and gear) 
Explore the local views with your binoculars to search the distant mountains
Planning your next part of the journey or destination
7. Examples of what others are doing to make their caravan interior special
In researching interior design features that you might use for your van it can be helpful to have a look at used caravans for sale QLD as each of the many brands have varying features some of which might appeal to you for your van. It is this process that helps you decide what features to look for in your van, new or used. There is, however, no better teacher than doing a trip in a caravan to show you what is useful and what you can do without. Your priorities or likes differ from everyone else so go with what you feel comfortable with and what you like. The good thing about caravans today is that you can find so many features through your new and used caravans for sale to really explore options and individualise your van to exactly what you want.  
Now your home away from home is tailored to your needs get travelling & enjoy the adventure.
Now that you have all the tips and tricks for making your caravan feel like home, we'd love to hear about your successes! What adjustments did you make? How has life on the road become more comfortable for you and your family? Share your stories with us in the comments below or even better photos on our Facebook page – we can't wait to hear about them or see them. And if there are any other questions you have about travelling in a caravan, don't hesitate to ask – our team is always happy to help. Safe travels and happy caravaning!