Takalvans - Servicing All Caravan Makes & Models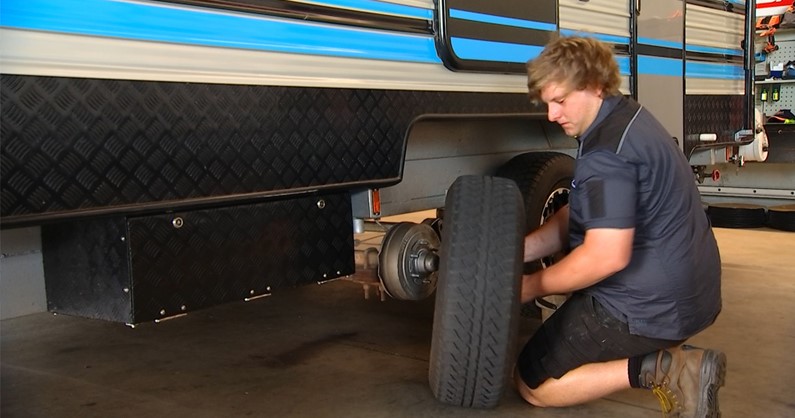 Reputable manufacturers specify that new caravans should be serviced within three months or 1,000km from purchase and every 12 months or 10,000kms thereafter. 
Adhering to these recommendations will ensure your home on wheels stays in tip-top condition, providing you years of trouble free holidays. 
For reference, these services usually cover the following components:
Remove hubs; clean and inspect wheel bearings, hub backing plate assemblies, and pads.
Re-pack wheel bearings and replace bearing seals.
Reassemble and paint hub assemblies.
Check electric brake and brake safe operation and adjust only if required.
Inspect and grease suspension components as required.
Inspect tyre condition and wear.
Inspect jockey wheel, tow hitch, and park brake. Adjust as required.
WHY SHOULD I GET MY CARAVAN OR RV SERVICED AT TAKALVANS?
Our experienced qualified staff will work on your caravan, providing a high level of workmanship to satisfy even the most discerning of owners. We are proud of the fact that all our workshop staff are qualified tradesmen with various areas of expertise to ensure a professional job is completed on your pride and joy. 
It doesn't matter whether you are local or a holiday-maker just passing through; call us and make a convenient time to have your work completed. You can book a caravan service during normal office hours by contacting us today. 
---
Here's what a few of our customers had to say;
Make Takalvans your first stop. When everyone else was saying no, these guys were saying yes. The team went above and beyond with my camper and their communication was top notch. Customer service is so important and Takalvans have nailed it. Give Takalvans your business and don't bother with anyone else. They'll look after you.
- Cooper Milovski via Google & Facebook
---
Having travelled all around Oz I believe Takalvans is one of the best service centres in Australia. We have had our caravan serviced there for years now and their great customer service, workmanship and attention to detail is unbeatable. My family has also bought a caravan through them and found the whole experience very pleasant. A truly great family run business that I would recommend to everyone.
- Jason McCullogh via Facebook
---
Once again I would like to thank you and all of your Takalvans team for dealing with my camper so promptly and addressing all of my requests. I was astounded at your turn-around time for the work conducted and also for your extra level of service in picking-up and dropping back my camper to my home address as well as delivering it to your canvas repairer for additional work offsite. I will certainly be using your professional services again should the need arise. Happy camping!
- Mary Giles via Email
---
The service you receive here is fantastic . We had our caravan serviced and a leak fixed. This team are extremely professional and nothing seems to be a problem. They went above and beyond to help us. Cannot recommend them highly enough.
- Robert Watson via Facebook
---
Had some issues with my Jayco Starcraft when away in Queensland rang Takalvans up only to happy to help got my problems sorted out and they carried out a service at my request. Great service, friendly staff, Jayco were too busy so they missed out as we are from Sydney it was great to get it done so quickly. Would come back here just for my service.
- Ron Smith via Google
---
Just had our New Age Manta Ray serviced here from out of town, they were fantastic to deal with on the phone with all of my questions and concerns as family dropped it down and picked it up for us. Thank you.
- Amy Barnes via Facebook
---