Why choose Takalvans for your Caravan Insurance repairs and service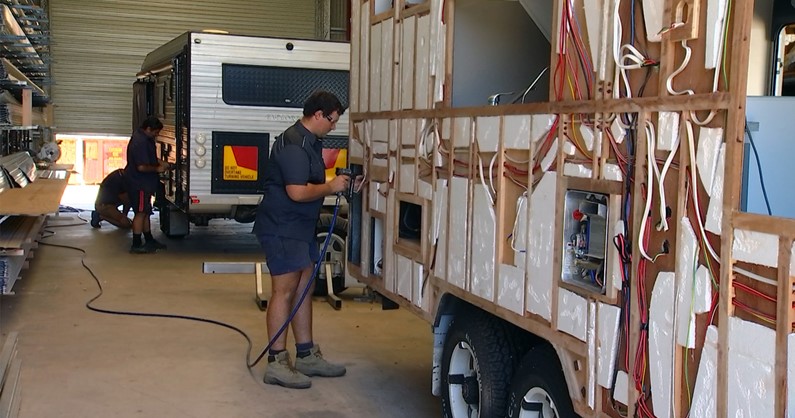 If you're a caravaner, then you know that your vehicle is an important part of your travels. That's why it's important to make sure you have quality caravan insurance, and that you choose the right company for repairs and service. At Takalvans, we pride ourselves on being the best in the business. We have years of experience repairing and servicing caravans, and we always use only the highest quality parts and materials. Outside of this Takalvans are the selected repairer for leading providers such as RACQ and are the preferred caravan insurance repairs company for the Suncorp Group of companies. 
Need to make a Caravan insurance claim?
Firstly if you need to make a caravan insurance claim please go to our caravan insurance repairs service page here>>
Goal of this blog
In this short blog we will cover some key things you should expect from your caravan insurance specialist that will help you make the correct decision and also find out why we think we are the best in the caravaning business. We don't say this lightly but we love what we do and know we provide friendly, efficient service that is always focused on your needs first. 
Importance of passion and experience
Outside of being a preferred supply of leading companies it's important that you know that the people working on your pride and joy are fully qualified tradesmen, and at at Takalvans all our team are highly trained and qualified, ensuring you have peace of mind with your caravan repairs. No matter you if you need some travel advice or you need a major repair completed on your Caravan, our team are only too happy to have a friendly chat and ensure you get the service and outcome needed. 
How to get the caravan job done right the first time
When it comes to caravan repairs, you want to be sure that the job is done right the first time. That's why it's important to choose a friendly, professional and experienced caravan repair service team. With years of experience, our team of experts will be able to quickly assess the problem and provide the best solution. We understand the importance of customer satisfaction, so we'll go above and beyond to make sure that you're happy with the results. Finally, one of our key benefits is that you're dealing with a fully approved and certified Insurance Repairer that will get the job right the first time.
So no matter the caravan insurance repairs you need, it's important that you understand your options and our recommendation is talk to a caravan company that deals in sales, repairs and insurance claims, like Takalvans 😊. This way you can be provided with all the relevant options to help you make an informed decision. 
Repairs that most experienced repairers can provide:
Awning damage repair
Hail damage to the exterior of your caravan
Storm damage
Water/ingress damage
Accident repairs - make sure you get third-party details and or any witness details. 
Damage from component or appliance failure
So if you have had an unfortunate accident or situation that has resulted in the need to call your insurance, you can start the caravan repair process quickly by recommending Takalvans as your nominated and preferred repairer. Caravan insurance repairs should be easy and at Takalvans no matter if you are local or just passing through, we are a friendly and professional team ready to help you. Protect your investment with confidence!
NEED TO MAKE A CLAIM? Get in touch with our friendly & professional team today! 
---
Here's what some of our customers had to say:
Absolutely fabulous experience - all staff were very courteous and kept us up to date with our caravan repairs. Prices quite good compared to other places visited - Thanks Dale and team.
- Peter Slack via Google
---
"Just a short note to let you know how impressed I was with the service I received from your staff. You looked after our Paramount repair thoroughly and did over and above what was originally required. I will have no hesitation in recommending Takalvans whenever I can."
-Gerry Gagel via Google
---
"Very efficient and professional service for my hail damaged caravan. Looks like new again. Would highly recommend. Well worth the 4 hr drive to get it there."
- Mick Bolland via Google 
---
Conclusion
We hope that this article has shown you the importance of working with qualified caravan experts like Takalvans. When it comes to something as important as your caravan, you want to make sure that you're dealing with people who know what they're doing and have your best interests at heart. Takalvans is a preferred supply for leading insurance companies because we take our quality work seriously and always put our customers first. If you need any assistance or just have some questions about caravaning, get in touch or let us know in the comments below – we would be more than happy to help!