Takalvans - Family Caravan Range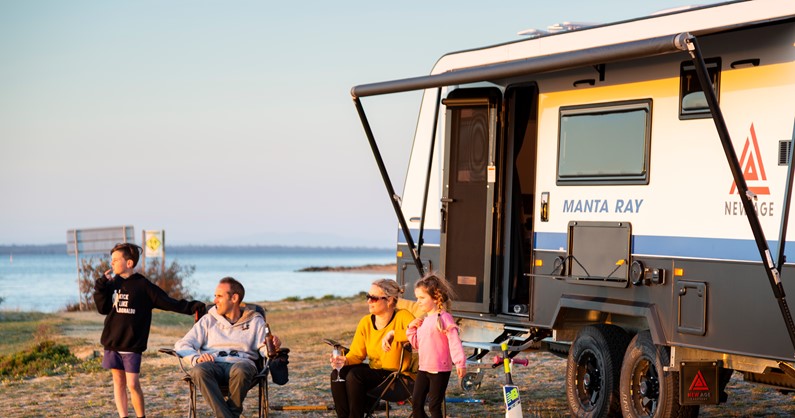 Ready for a new family adventure?
Pack up the kids and hit the road in a new family caravan from Takalvans and start making memories today!
With Queensland open for travel has there ever been a better time to explore our beautiful part of the world. Whether it's that weekend getaway to a nearby camping spot or a longer journey we have a family caravan to suit your needs. 
Explore our range below 👇
One of New Age most popular caravans, the Gecko Range is lightweight and compact in design. It includes all the luxuries you would expect from a family sized caravan, with a fully equipped kitchen and spacious dining area. 
New Age Road Owl RO19BE & RO21BE
Suited for families or couples, the Road Owl Range has been designed for travelers new to the caravan market. Road Owl Provides an affordable option that does not compromise on quality. It's contemporary design and spacious layout give the Road Owl an airy feeling that is comfortable and considered.
With streamlined construction, state of the art technology and a new sleek design, the Wayfinder is a masterpiece of Walkinshaw Engineering. The Wayfinder lets you explore Australia without the weight and size of a caravan, letting you travel light to the places that are out of reach to the normal caravan. Coming in a family layout, there's nothing stopping you from going on your next adventure.
The Manta Ray Caravan is ideal for those seeking to travel Australia in style. New Age Caravans has spent years designing and perfecting the Manta Ray range of caravans to bring you the most comfortable travel experience.
This modern range has been engineered to offer all the space you need. Suitable for families, the Manta Ray MR22 comes furnished with an ensuite with shower and toilet, fully equipped kitchen, and spacious layout design.
Designed for the action enthusiast, our New Age XU toy hauler features engineering and design aspects that could only come from a company owned by Australia's Walkinshaw Automotive Group. For those who live for adrenaline-fuelled activities like motorbiking, quad biking or mountain biking, the XU's clever garage setup, modular sleeping quarters and transformable outdoor patio make it the perfect caravan for high-octane holidays or weekends away. And with the ability to accommodate up to seven people, there's no need to leave anyone behind.
For more information contact our friendly sales team today.